Okay, can time just speed up now?? It's so cliche but where has the time gone?! We've been engaged for almost 10 months already?!
But at the same time, it feels like it was forever ago. Does that make sense? Probs nobs.
Does anyone else say that? I said that to Tom last night and he was like, "Who says that? And what does that even mean?"
I say it, and it means probably not. Only it's more e-fish. Get it? Like, efficient? Anyone? No? Alright, let's move on.
So the past week and a half was crazy insane.
Like seriously. This post includes not only wedding updates, but also life updates because, well, it's my blog and I do what I want. Are you ready?
Last weekend, I wrote about my progress with invitations. I'm glad to say that I'm 99% done (there are a few stragglers that Tom needs to find addresses for) and have sent out any and all invitations that I could! I put the majority of them in the mail on Sunday the 8th (the day after I wrote my 10 week update post on our wedding website) and have already gotten a bunch of response cards back!

I'm using an Excel spreadsheet to keep track of responses as they come. I made a column of all the people we invited, and then made columns for the downstate and upstate festivities, under which I will write the names of people in relation to how they responded. So I'm keeping track of who has responded, how they responded to each event, and also how many are coming. Exciting stuff! Yeah!
The next day, Monday, I accepted a teaching job for next school year! I'll be the newest addition to the math and science crew at Mary McDowell Friends Upper School here in Brooklyn and I couldn't be more excited! I worked there this past year as a paraprofessional, employed by a family whose student attends the school. I'm ecstatic that I get to work with (almost) everyone again this year, only as a teacher this time! I'm sad to see people go, but wish them all the best in their amazing future endeavors (one guy is going to Malaysia to teach math!) and know they'll kick butt wherever they are.
Tuesday was a 'no school' day so I spent the day cleaning and relaxing. Wednesday was the last official day of school for my student, and it was a half day, so I got to chill a bit that day too. I went and got a spray tan so that I wouldn't blend in with my ivory colored bridal shower dress. Although they were two different dresses, both of my shower dresses were similarly pale and would not mesh well with my pastiness.
Thursday I got my hair colored and blown out. I'm telling you, I would love it if those girls would wash my hair and massage my scalp like that every other day. It feels amazing! And the stylist was able to get my hair straight and swishy! Please come home with me!
Friday was flight day, so I spent the morning packing and getting ready to fly upstate for the weekend. I hadn't heard anything bad in weather reports, so I left for the airport around 2 so that I would arrive about 75 minutes before my scheduled flight time. Everything was going smoothly – the subway was on time and connection times weren't long, and I got to the AirTrain in great time.
And that's when Delta emailed me saying that my flight was delayed an hour. I texted my friend in Boston, Michelle, since we were originally flying in to Buffalo around the same time, and I also texted my friend in Buffalo, Courtney, to let her know since she was picking us up. Michelle said her flight was cancelled and wouldn't be getting out until the next morning. We discussed what it could be due to – both of us were looking at fairly clear skies!
I got to JFK and my flight was still only delayed an hour which was good. I got my bag checked and, wouldn't you know it, when I walk out of security and check the departures board, my flight was cancelled. Delta kindly sent me an email letting me know that everything was good and they rebooked me for a 4pm flight the following afternoon.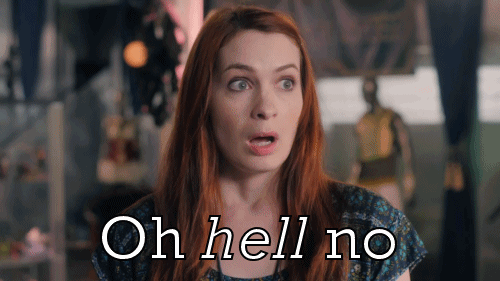 Little did they know, that would not work seeing as my bridal shower was at 1pm the following afternoon. So I stood in line for over an hour and the agent was able to rebook me for the 8am flight the following morning. She was really kind and wished me congratulations and good luck on my bridal shower.
Back home I went, this time only with my small carry-on, which was convenient but also meant that all of my beauty products were somewhere in the airport instead of at my fingertips. This meant that I would look like a bag lady until I got said products and the use of someone's bathroom mirror and outlets upstate. And I was worried that something would happen that would cause my luggage to be lost, and then I'd look like a bag lady all weekend. Nonetheless, back on the AirTrain and subway I went, annoyed but sure everything would work out fine.
Except it was lashing rain when I got out of the subway. Thunder, lightning, the whole shebang. Luckily, in said carry-on, I had my umbrella. Okay, I guess it was a good thing we didn't try to fly.
The next morning, when I went to leave at 4:30am to go through the whole process again, my sneakers were still wet; not pleasant. Everything went fine and before I knew it, I was landing in Buffalo…where it was about 20 degrees colder than I had packed for. My checked bag made it there fine and, wouldn't you know, Michelle's flight was only about half an hour ahead of mine! So it all worked out perfectly!
We got to Batavia in record time, enjoying some TimBits and caffeine on the way, and I was (finally!) able to beautify myself. The entire day was party day – bridal shower, lingerie shopping (oh la la!), and bachelorette party. It was so great seeing all of my friends and family! I want to thank all the ladies who planned and attended my bridal shower this past weekend – it was a fabulous time and I can't begin to tell you how special I felt. I'll be writing a post about it soon so stay tuned!
Sunday was relax by the pool day with my friend Jenna whose family generously opened their home to me all weekend. I'm so glad we got a nice sunny day to enjoy! Monday was spent visiting my mom and Godmother before I had to take off once again. My friend Becky drove me to the airport and we got to talk like we used to in college, just shooting the breeze…figuratively and literally since the AC doesn't work in her car and it was like 84 that day, so the windows were all down! My car was the same exact way a few years ago so it wasn't anything I couldn't handle.
My flight home was very smooth and it was so nice to get home and finally not live out of a suitcase! And, of course, see and hug and talk to Tom! I am so grateful that I was able to see and spend time with so many wonderful people this weekend. I miss that so much and I know that it will probably only get harder as everyone gets married and starts having kids and whatnot, but I want to make a point to get together at least once or twice a year because those relationships are so important!